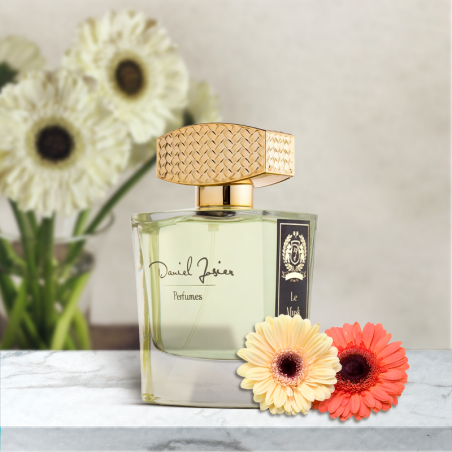 FLORAL PERFUMES
Most women's fragrances contain floral notes, and many men's fragrances also contain a hint of floral.
It is the largest olfactory family and the most popular. Its aromas are the most used in perfumery. FLORAL NOTES are usually the basic essence of many perfumes or a complement to other families. The FLORAL OLFACTORY NOTE along with the CITRUS OLFACTIVE NOTE are the most popular and extensive of all families.
This large family includes all the perfumes whose main theme is the olfactory representation of a single flower (soliflore) or a set of varied flowers (bouquet).
Nature offers a multitude of flowers with different aromas. However, there are some flowers from which it is impossible to extract an extract for the creation of fragrances, since their extraction yield is insufficient. This is the case of lily, lilac, hyacinth, carnation, honeysuckle, peony, violet, freesia, gardenia, etc… But thanks to science, its scent can be recreated by the perfumer, using different isolated or synthetic molecules.
In a FLORAL PERFUME the most present aromas are: rose, jasmine, peony, gardenia, tuberose, lily of the valley, freesia, magnolia, geranium, mimosa, violet, daffodil, orange blossom, neroli, iris and osmanthus.
The FLORAL FAMILY is extensive and several flowers can be mixed, even if there is a dominant flower. It can also be combined with fruits or spices, woods, Musk, amber or vanilla.
The FRAGRANCES belonging to this family are delicate, romantic and very feminine. They evoke romanticism and naturalness.
The FLORAL OLFACTORY FAMILY can be divided into:
Oriental-floral perfume: composed of a higher concentration of sweet spices and orange blossom
Floral perfume composed of soliflowers or bouquets
Within the floral category there is a subgroup: "white flowers", which are orange blossom, jasmine, gardenia, tuberose and frangipan. Although honeysuckle is yellow, its scent profile is not that of yellow flowers (such as mimosa) and is classified by the intoxicating nectar of white flowers.
Although the LILY OF THE VALLEY is white, it is classified as "green floral", as it does not have the olfactory notes of white florals and shares aromas of green florals, as occurs with hyacinth and daffodil.
The WHITE FLOWERS are exuberant and intoxicating, they have the most narcotic aroma of all flowers.
FLORAL FRAGRANCES are easy to recognize as soon as you smell them.
The scents of ROSE and JASMINE are almost always present in a floral perfume.
LAURA PERFUMERY and our selection of FLORAL NICHE PERFUMES
ALEXANDRE. J
Altesse Mysore (floral, oriental, sensual)
Black Musk (floral, musky, woody)
Violet Iris (floral, musky, woody)
Morning Musk (floral, musky)
Rose Oud (floral, oriental)
Oscent Pink (floral, fruity)
Oscent Rouge (floral, fruity, oriental)
LALIQUE
Nylang (floral, fruity, oriental)
Lalique de Lalique (Floral, Fruity, Musk)
Lalique pearls (floral, Cyprus)
Amethyst Êclat (floral, fruity, musky)
Azalée (floral, Cyprus)
L'Amour (floral, citrus, woody)
Fleur de Cristal (floral, fresh, musky)
Satiné (vanilla floral, woody)
Amethyst (floral, fruity, musk)
Le parfum (floral, spicy, musky)
NOIR PREMIERE by LALIQUE
Rose Royale 1935 (floral, woody, leather)
Fleur Universelle 1900 (floral, Cyprus)
CARTHUSIA
Caprissimo (floral, citrus, woody)
Carthusia Lady (floral, citrus, oriental)
Fiori di Capri (floral, aromatic, woody)
Gelsomini di Capri (floral, amber, musky)
Io Capri (floral, tea, marine, tobacco)
Mediterranean (floral, tea, citrus, musky)
Via Camerelle (floral, citrus)
IL PROFVMO
Voile Blanche (floral, fruity, herbaceous, wild)
Musk Bleu (floral, musky)
Bamboo Fleur (floral, aldehyde, aquatic)
Cannabis (floral, aldehyde, amber)
Caramella d'Amore (floral, sweet)
Cortigiana (floral, sweet)
Black Dianthus (floral, woody)
Quai des Lices (floral, citrus, woody)
Aria di Mare (floral, marine, fresh)
Pioggia Salata (floral, aquatic)
Vanille Bourbon (floral, sweet)
TONI CABAL
White Rose (floral, woody)
Tea Rose (floral, fresh)
Chocolate Oud (floral, amber, Musk)
Spring Escape (Floral, Fruity, Musk)
Fleur d'Oranger (floral, citrus)
Ischia Supreme (floral, citrus, Musk)
Santorini Supreme (floral, citrus, fresh)
Madame Butterfly (floral, fruity)
Sugar Blossom (floral, sweet, ambery)
Giulietta (floral, sweet, ambery)
ETRO
Vicolo Fiori (floral, musky)
Musk (floral, musky)
Heliotrope (floral, vanilla)
Ambra (floral, amber, woody)
Sandalwood (floral, amber
Dianthus (floral, spicy, woody)
Jacquard (floral, spicy, musky)
Rajasthan (floral, oriental, woody)
Patchouli (floral, woody, amber)
Shaal Nur (floral, citrus, aromatic)
Etra Etro (floral, fresh, vanilla)
New Tradition (floral, fresh, woody)
Man Rose (floral, woody, spicy)
Santhung (floral, fruity, musky)
Pasley (floral, vanilla, amber)
Udaipur (floral, oriental)
TIZIANA TERENZI
Arethusa (floral, aquatic)
Delox (floral, woody)
Maremma (floral, musky, woody)
Andromeda (floral, oriental)
Cassiopea (floral, Cyprus)
Eclix (floral, musky, woody)
Orion (floral, musky, woody)
Porpora (floral, oriental)