Intensive Treatments Valmont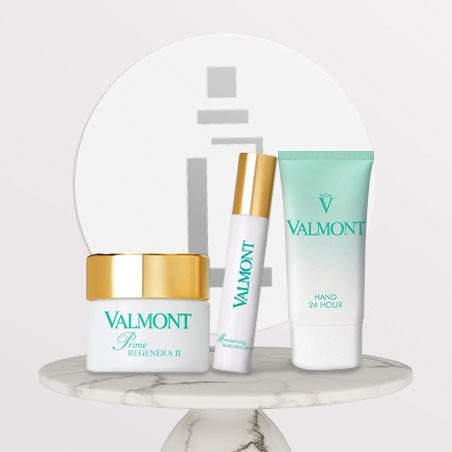 INTENSIVE TREATMENT RITUAL
True to its functional values ​​and its search for excellence, Valmont Cosmetics offers women and men a collection of INTENSIVE TREATMENTS to control the signs of the passage of time with incomparable efficiency.
The "Magicien Du Temps" treatments with pure ingredients, exceptional formulas and concentrations that defy the laws of cosmetics, are clearly worthy of their good reputation. Its formulas are endowed to master all the signs of the time to perfection.
These polyactive treatments regulate the mechanism of the skin cells and reverse the course of time, acting in synergy on hydration, energy, luminosity and firmness.
Regenerated skin recovers the tone, vitality and luminosity of a young skin. These INTENSIVE TREATMENT products are a true program to stimulate skin functions with a reinforced action on all the factors involved in the appearance of the visible signs of the passage of time.
Reducing wrinkles and expression lines. Acting against the relaxation of the tissues and reactivating the natural functions of the damaged skin. Thus the skin regains its elasticity and firmness.
THE PRODUCTS OF THE INTENSIVE TREATMENT RITUAL ARE:
Time Master Intensive Program (essential cellular cure)
Eye Regenerating Mask Treatment 5 duos (collagen regenerating eye mask)
Regenerating Mask Treatment 5 sheets (regenerating collagen mask)
Eye Instant Stress Relieving Mask 5 duos (smoothing eye patch)
Cellular DNA Complex.