Alexandre .J - Art Deco Collection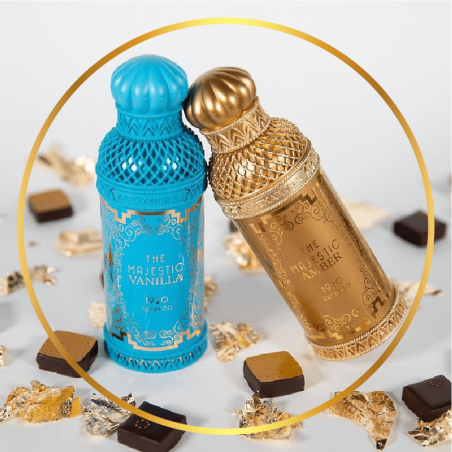 ALEXANDRE.J PRESENTS THE ART DECO COLLECTION COLLECTION
It is an alternative line to the THE COLLECTOR collection, which reinforces the spirit of the brand through artistic trends.
For ART DECO lovers, for clients looking for unique fragrances and packaging.
Alexandre.J celebrates 100 years since the birth of ART DECO with the presentation of 6 new and sophisticated fragrances.
The ART DECO collection is inspired by the creations of the time. Homage to this golden age, Alexandre.J transforms all his art into his creations.
The bottles have been made in a very special way, their aromas reflect the chords from the 1920s, enhanced with the richness of today's materials.
THE 6 NEW UNISEX FRAGRANCES
THE MAGESTIC JARDIN : it is a sweet fragrance, spicy and oriental. This perfume seeks new emotions and discovers the exoticism of the East and Asia.
THE MAGESTIC AMBER : it is an oriental fragrance and floral. This perfume pays homage to the great perfume houses and brings its beautiful golden amber color like the extravagant decoration of yesteryear.
THE MAGESTIC OUD : it is an oriental fragrance and woody. This perfume recalls sensual Parisian nights. A fragrance tinged with fruity patchouly, wrapped in sumptuous oud.
THE MAGESTIC VANILLA : is an oriental leather fragrance . This perfume pays homage to the early oriental fragrances of the 1920s. It combines feminine notes of fruit and vanilla with resinous masculinity.
THE MAGESTIC MUSK : it is a floral fragrance, musky and woody. This perfume evokes the elegance and exuberance of the roaring 1920s, with a scent of compact powders.
THE MAGESTIC VETIVER : is an aromatic fragrance and woody. This perfume harks back to the laid-back lifestyle of the French Riviera. MAGESTIC VETIVER offers a delicious woody vetiver aroma tinged with an aromatic breeze.