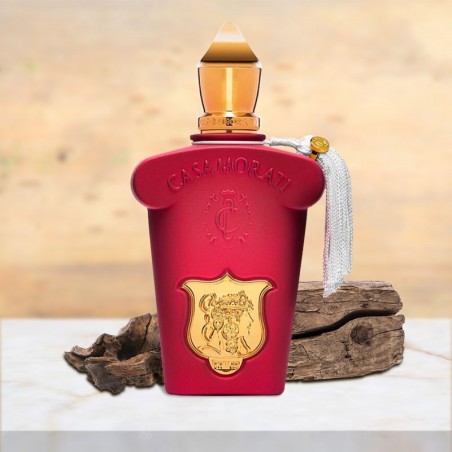 The PERFUMES of the WOODY FAMILY are CHARACTERIZED by being warm and opulent. They are generally masculine or unisex and some have a feminine character.
This family is COMPOSED by the definitive note that is wood: roots, bark, resins, leaves, mosses, pineapples and bushes.
Like the floral families, the FAMILY OF WOODY PERFUMES ARE USUALLY CHARACTERIZED by being accompanied by citrus and herbal notes such as lavender.
His compositions focus on the scents of sandalwood, cedar, oud, patchouly, vetiver, birch... WOODY FRAGRANCES usually include citrus, fruity, spicy, herbal and Musk notes.
The WOODY PERFUMES are elegant, deep and persistent, evoking a calm, confident, warm and outgoing character.
WOODY FRAGRANCES ARE DIVIDED INTO: aromatic woods, mossy woods, dry woods and smoked woods.
1. AROMATIC WOODS FRAGRANCES contain essences of pine, cedar and vetiver.
2. MOSSY WOOD FRAGRANCES are characterized by a mix between a warm base and fresh top notes.
3. DRY WOOD FRAGRANCES are characterized by their composition of chypre, tobacco and leather.
4. SMOKED WOOD FRAGRANCES contain vetiver and oud.
Only a few woody notes can be top notes or heart notes, like jacaranda wood. Generally woody notes are found in the background.
The aromatic profile of woods varies from tree to tree. Some woods like palo de santo can smell like tar. Others are austere and remind us of the smell of new pencils, like cedar wood. Others are creamy, milky and inviting with a deep smoothness like sandalwood.
There are also those woody notes that are individualistic and star in the entire composition.
OUD WOOD is the product derived from the aquilaria tree, infected by a fungus. In particular, this aroma is so rich that it encompasses notes of nuts, wood, aged and even camphorated aroma.
Although some woody notes are produced by natural means such as maceration and distillation of wood chips, they can also be produced through laboratory synthesis.
VETIVER and PATCHOULY are interesting exceptions in the group of woody notes, as VETIVER is really a grass with a complicated root system. And the PATCHOULY is the leaf of a bush, but its aromatic profile is woody, hence its classification.
There are very few fragrances that do not include a woody note within their composition.
LAURA PERFUMERY and our selection of WOODY NICHE PERFUMES
At PERFUMERÍA LAURA we offer you the following WOODY FRAGRANCES, which you can purchase both at our physical store in Alicante and online.
ALEXANDRE J.
The Majestic oud (woody, oriental)
The Majestic Vanilla (woody, oriental, leather)
The Majestic Musk (woody, floral, musky)
The Majestic Vetiver (woody, aromatic)
Black Muscs (woody, floral, musky)
Golden oud (woody, oriental)
Violet Iris (woody, floral, musky)
Oscent Black (woody, oriental)
Oscent White (woody, oriental)
Western Leather White (woody, oriental)
Le royal (woody, oriental)
CARTHUSIA
1681 (woody, citrusy)
Aria di Capri (woody, citrusy, floral)
Caprissimo (woody, floral, fruity)
Carthusia Uomo (woody, floral, citrusy)
Corallium (woody, floral, musky)
Fiori di Capri (woody, floral, aromatic, chypre)
Number One (Woody, Floral, Spicy, Citrus)
San Carlo Theater (woody, cool and amber)
IL PROFVMO
Imprinting (woody, citrus, tea)
Othello (woody, citrus, oud)
Ginger (woody, floral, citrus)
Quai des Lices (woody, fruity, floral, tobacco)
Musk Blue (woody, Musk, floral)
Java Vetiver (woody, herbaceous aromatic)
Patchouly Noir (woody, oriental, spicy)
TONI CABAL
White Tonka (woody, spicy, fresh)
Bergamot Oud (woody, fresh, oud)
Ambery Leather (woody, dry, fresh, ambery)
Tannhäuser Xtrem (woody, spicy, fresh)
Richmond (woody, spicy, ambery)
Suit & Tie (woody, cool, amber)
Tobacco Leather (woody, oriental, tobacco)
Romeo (woody, dry)
ETRO
Sandalwood (woody, floral, amber)
Patchouly (woody, floral, amber)
Lemon Sorbet (woody, citrusy, aromatic)
Ambra (woody, fresh, vanilla)
Palais Jamais (woody, citrus, leather, tobacco)
Vicolo Fiori (woody, citrusy, floral)
New Tradition (woody, fresh, floral)
Dianthus (woody, fresh, floral)
Musk (woody, citrusy, oriental)
Raving (woody, spicy, enveloping)
Pegasus (woody, floral, spicy)
Io My Self (woody, musky, oud)
Rajasthan (woody, floriental)
Man Rose (woody, citrusy, floral)
Shantung (woody, citrusy, floral)
Udaipur (woody, floral, oriental)
TIZIANA TERENZI
Delox (woody, floral, musk)
Lillipur (woody, oriental)
White Fire (woody, aquatic)
Al Contrario (woody, aromatic)
Ecstasy (woody, oriental)
Maremma (woody, floral, musky)
XIX March (woody, aromatic)
Eclix (woody, floral, musky)
Orion (woody, floral, musky)
Tabit (woody, floral, musky)
Cas (woody, spicy)
Kaff (woody, floral, musky)
Casanova (woody, spicy, musky)
Chimaera (woody, floral, tobacco, leather)
Cabiria (woody, floral, fruity)
Nero Oudh (woody, floral, musky)
PALAZZO NOBILE by VALMONT
 Casanova (woody, aromatic)
STORIE VENEZIANE by VALMONT
Mica d'Oro I (woody, oriental, gourmand)
Green Erba I (woody, floral, fresh)
Blue Cobalt I (woody, oriental, gourmand)
FIELDS OF IBIZA
Cedar (woody, aromatic)
WILGERMAIN
More ir More (woody, floral, leather)
Passion Victim (woody, floral, ambery)
Inconfessable (woody, spicy, balsamic)
NICOLAÏ
Rose oud (woody, floral, balsamic)
Amber oud (woody, ambery, balsamic)
Patchouly Intense (woody, floral, balsamic)
Cuir Cuba Intense (woody, floral, tobacco)
Baïkal Leather Intense (woody, spicy, Musk)
ALLER PERFUMES
Terra (woody, amber, earthy)
Lume (woody, oriental)
Ar (woody, floral)
Auga (woody, citrusy, ambery)
LALIQUE
Lion (woody, cool, amber)
Equus (woody, fresh, spicy)
Encre Noire (woody, green, musky)
Encre Noire Sport (Woody, Citrus, Musk)
Encre Noire Extrem (woody, spicy, musky)
Hommage a l´Homme (woody, spicy, musky)
L'insoumis (woody, aromatic, fouguere)
Lalique White (Woody, Citrus, Musk)
L´ Amour (woody, floral, musky)
Perles de Lalique (woody, floral, spicy)
Fleur de Cristal (woody, floral, musky)
Satine (woody, floral, vanilla)
Amethyst (woody, fruity, floral)
NOIR PREMIER by LALIQUE
Rose Royale 1935 (woody, fruity, floral)
Terres Aromatiques 1905 (woody, chypre, aromatic)
Elegance Animale 1989 (woody, floral, fruity, leather)
CASAMORATI
Bouquet Ideale (woody, oriental, spicy)
Mephisto (woody, citrusy, aromatic)
PERRIS MONTE CARLO
Imperial Oud (woody, spicy)
Patchouli Nosy Be (woody, musky)
Absolue d'Osmanthe (woody, floral, fruity)
Cacao Aztèque (woody, oriental, vanilla)